Sada već tradicionalno, i ove godine, protestiramo za Međunarodni dan radničke borbe – 1. maj, čime želimo maknuti dvije glavne predrasude o tom danu. Prvu, kako je to poklon partije iz prošlog sistema, a ne naslijeđe međunarodne radničke borbe, i drugu, kako je to dan odmora, ne uključujući nikakav otpor gospodarsko-političkoj eliti i njezinim planovima da nas vrati jedno stoljeće unatrag, snizi životni standard i sreže sva osvojena socijalna prava.
Godine 2011. smo se kao Mreža uzajamne pomoći (MUP, Rijeka) priključili prosvjedu Sindikata Istre i Kvarnera (SIK), te istaknuli svoj transparent "U štrajk bez sindikalnih vođa!", čime smo jasno poručili što mislimo o sindikalnim klaunovima koji zabavljaju radne mase, istovremeno gradeći sebi političke karijere i živući kao gospoda od visokih plaća sakupljenih od članarina članstva sindikata. 2012. je bila posebna godina za nas jer smo sami kao Mreža uzajamne pomoći, bez nazočnosti stranaka i birokratskih sindikata, s glavnom parolom "1. maj radnicima, a ne partijama!" uspješno organizirali prosvjed, kao radnici, nezaposleni i budući radnici.
Ove 2013. godine želimo ponoviti uspjeh od prošle godine i organizirati protest za 1. maj od radnika za radnike, od nezaposlenih i budućih radnika za nezaposlene i buduće radnike, time vježbajući samoinicijativu i gradeći kulturu otpora i solidarnosti. Nakon protesta ćemo se, kako to već običavamo, uz druženje i priču pogostiti zakuskom i pićem.
Za borbeno radništvo! Za kulturu otpora i solidarnosti!
…Vidimo se za 1. maj u 12h na trgu 128. brigade…
Skinite letak i distribuirajte ga!
Skinite plakat i distribuirajte ga!
Na protestu će se dijeliti i prvomajsko izdanje novina MASA Rijeke!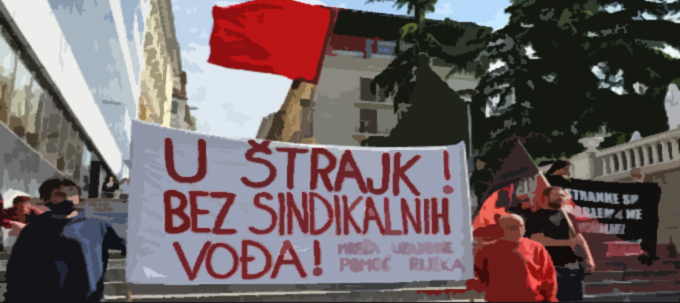 2011.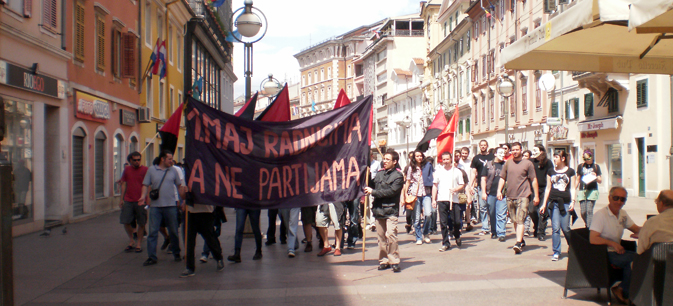 2012.
---
Mreža uzajamne pomoći – Rijeka (ex Koordinacija prosvjeda Rijeka) neformalna je grupa radnika, bilo zaposlenih ili nezaposlenih, studenata, školaraca i umirovljenika. Unutrašnje funkcioniranje grupe odvija se na direktnodemokratskim – ravnopravnim osnovama, odnosno, svaki sudionik ima pravo slobodno predlagati, raspravljati i glasovati o pitanjima koja se tiču rada grupe.
MUP – Rijeka će kroz javne kampanje, prosvjede i ostale direktne akcije ukazivati na kršenja radničkih i ljudskih prava u Rijeci i okolici, te iste pokušati riješiti kolektivnom solidarnošću i pomoći. Uz ukazivanja na kršenja prava, grupa će pokušati kroz solidarne doprinose i volontiranja pozitivno utjecati i na egzistencijalne probleme sudionika grupe i šire.
MUP – Rijeka se neće zadržati na "liječenju simptoma", već će aktivno ukazivati na nejednaku raspodjelu društvenih dobara i političke moći, te na sprječavanje slobodnog protoka svih informacija i na sprječavanje slobodnog pristupa sredstvima za proizvodnju. Odnosno, grupa će se zalagati za slobodan pristup svim društvenim dobrima, informacijama i sredstvima za proizvodnju, te za direktnu demokraciju kao alternativu centraliziranju političke moći.
---
Više o 1. maju:
- 1. maj dan otpora, a ne odmora
- Historijska pozadina 1. maja
- Kako su to radili naši stari
---
Izvor: MASA, Rijeka