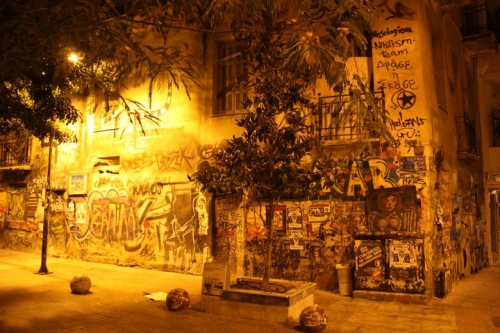 Ne mogu vjerovati vlastitim očima. Stoje na uglu ulice, nekih dvadesetak njih, u punoj opremi. Napadno nas promatraju dok prelazimo ulicu, djelujući pritom jako prijeteće.
Ulazimo u Eksarhiju – neslužbeni glavni grad anarhizma u Grčkoj, Europi, možda čak i svijetu. Niti jedan policajac se ne usudi kročiti ovdje, što je ujedno i glavni razlog za odluku vlasti da se četvrt praktički "opkoli". Naime, oko ove atenske "slobodne države" trajno su raspoređeni policijski odredi za razbijanje nereda. Samo u favelama Ria i naseljima oko Johannesburga sam vidio ovakve urbane barikade.
Dok šećemo kroz eskarhijske ulice, u razgovoru s Amalijom zaključujem da je ovo zasigurno jedan od glavnih svjetskih "centara protivljenja." Premda sam taj termin izmislio, on poprilično dobro opisuje Eksarhiju. Gdje god pogledam, zidovi su prekrivreni anarhističkim grafitima i plakatima koji pozivaju na građanski neposluh ili narodni ustanak. Pretpostavljam da su Quartier Latin (pariška četvrt, op. prev.) ili sveučilište Berkley tako izgledali 1968. godine.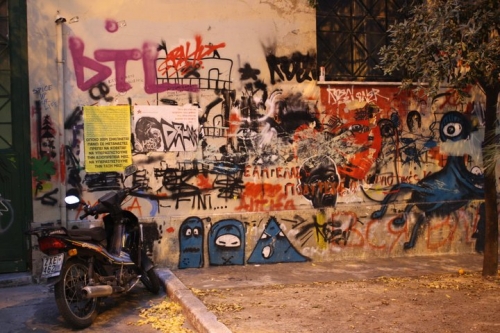 Policijske barikade znače da državne sigurnosne službe Eksarhiju praktički drže pod opsadom, što nimalo ne iznenađuje. Ovdašnji anarhisti su u stanju konstantne revolucije protiv države. Paljenje lokalne policijske postaje već je uobičajena stvar, kao što je i pretjerano policijsko nasilje pri smiravanju "neposlušnih" stanovnika Eksarhije.
Prolazimo kraj krasnog malog parka, smještenog između dotjaralih stambenih zgrada. Uz kulise revolucionarne ulične umjetnosti ("El pueblo unido!"), grupa zgodnih mladih djevojaka sjedi i razgovara, dok malo dalje junkie nespretno tetura cestom. Mladi Grk sa dreadlocksima igra se sa svojim psom na klupi pokraj mene.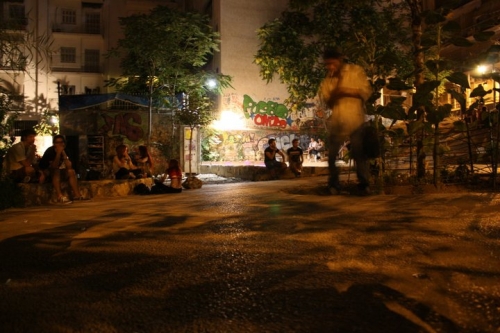 Prije dvije-tri godine, mještani su okupirali ovaj trg kako bi pokušali zaustaviti lokalne vlasti u naumu da ga pretvore u parkiralište. U kratkom vremenskom roku, volonteri iz susjedstva spontano su se organizirali i pretvorili asfaltni trg u mali utopijski javni prostor okružen drvećem, cvijećem, klupama, gradskim vrtom, pa čak i dječjim igralištem.
"Mukotrpno smo se borili za ovaj prostor," Lydia mi je kasnije napomenula. "Policija je jako nasilno reagirala kada smo ga zauzeli, ali smo izdržali i, kao što vidiš [bilo je 4 sata ujutro u tom trenutku], dežuramo ovdje 24 sata na dan samo kako policija ne bi došla i uništila naš javni prostor."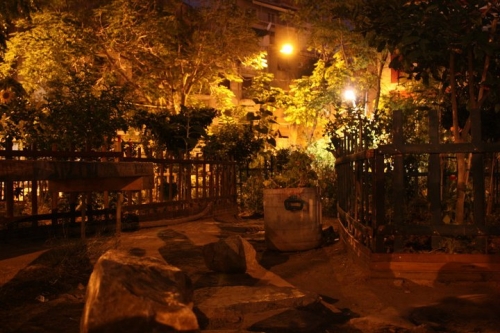 Dok mi je ovo pričala, prišao nam je zbunjeni junkie kako bi "nažicao" nešto sitniša ili cigaretu. Pristojno sam ga odbio, no Lydia mu je oštro naredila da odjebe. "Tako smo se jako borili za ovo mjesto," opet napominje. "Toliko puno krvi i suza. Sada ti je jasno zašto ne želimo da se ovdje skupljaju ovisnici. Ovo mjesto je namijenjeno za ljude, ne za drogu."
Nakon piva, cigarete i nekoliko fotografija, ustajemo se i šećemo dalje. Dva gradska bloka dalje, na grafitima pokrivenom pročelju zatvorenog "skvota" uočavamo crnu spomen-ploču. S ploče nas promatra lice mladića, Alexandrosa Grigropoulosa. Ovdje je ubijen 6. prosinca 2008.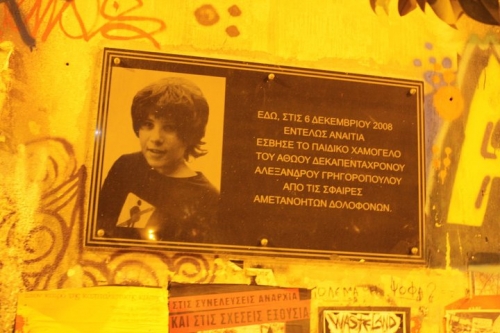 Alexandrosa su ubili dva policajca. Tvrde da je na njihov auto bacio kamen ili bocu vode. Svjedoci, pak, kažu da nije napravio ništa te da se samo našao u blizini dok se policija prepirala sa grupom tinejdžera. Imao je samo 15 godina kada su je ubijen, hladnokrvno upucan tri puta iz pištolja represivnog aparata države.
Alexandrosova smrt izazvala je val mladenačkih pobuna kakve post-diktatorska Grčka do tada nije vidjela. Policijske postaje i automobili su napadani Molotovljevim koktelima, dok su na ulicama trajali konstanti sukobi između mladih ljudi i policije. "Čitava četiri dana jednostavno nisi mogao doći do centra grada," objašnjava mi Amalia. "Autobusi nisu vozili u grad, trgovine su bile zatvorene, totalni kaos."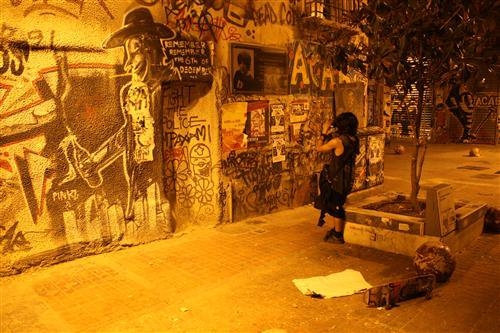 Pobune su se polako proširile Grčkom, kao i u ostale zemlje. Prosvjedi solidarnosti održani su u nekih sedamdesetak svjetskih gradova, a Alexandrosovo ubojstvo ubrzo je postalo svojevrsan cause célèbre za anarhiste i autonomiste diljem svijeta. Pobuna mladih iz 2008. još uvijek predstavlja ključan trenutak za grčku anti-autoritarnu ljevicu, no ujedno i glavni razlog zašto policijski odredi za suzbijanje nereda još uvijek drže Eksarhiju pod opsadom.
No 2008. nije prvi put da su državne snage podvrgle buntovne stanovnike ove četvrti pretjeranom nasilju. Eksarhijska je Politehnika još 1973. godine bila poprište studentskih prosvjeda protiv vojne diktature koje je bila na snazi u Grčkoj u to vrijeme. Iako su prosvjedi počeli mirno i većina studenata je jednostavno tražila demokratskiji oblik vladavine, vojna je hunta odlučila demonstrirati svoju silu na studentima.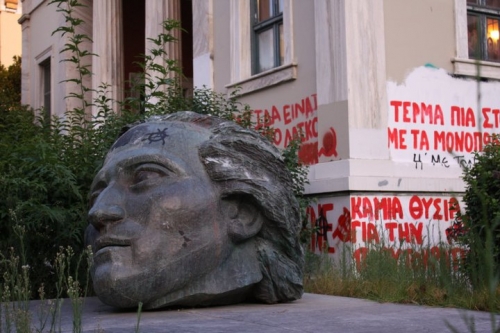 Tenkom je razrušen ulaz u Politehniku, a snajperisti su počeli pucati po studentima sa obližnjih krovova. Ubijali su bez ustručavanja – smrtno je stradalo najmanje 24 ljudi, uključujući i petogodišnjeg dječaka. Do stvarnog broja ubijenih još uvijek je teško doći. Amalia kaže da je bilo najmanje 40 mrtvih, dok su stotine ranjene.
Ustanak na Politehnici izazvao je cijeli niz narodnih pobuna, što je s vremenom dovelo i do pada diktature 1974. godine. Unatoč (ili možda upravo zato) ključne uloge koju je Eksarhija odigrala u rušenju autoritarnog režima, nove državne vlasti nisu bile ništa manje sumnjičave prema njenom politički osviještenom stanovništvu. Četvrt je pune tri godine (od 1989. do 1992.) bila pod policijskim okupacijom, a njeno stanovništvo izloženo maltretiranju i stalnim policijskim kontrolama.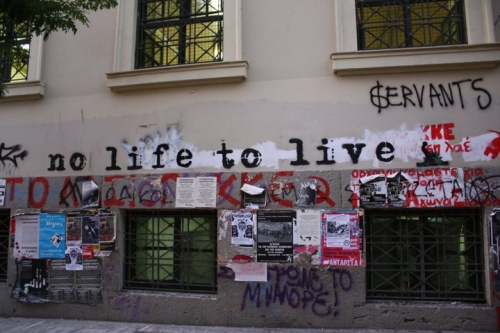 Nije, dakle, čudo da grčka mladež nema povjerenja u policiju. Ne iznenađuje poruka A.C.A.B. (All Cops Are Bastards = Svi murjaci su gadovi, op. prev.) našarana na gotovo svaki eksarhijski zid ili sveprisutno skandiranje "murjaci, svinje, ubojice." Nije, dakle, neobično to što su stanovnici Eksarhije razvili posebno duboku mržnju prema silama "zakona i reda."
Premda se ovo područje postepeno "yuppieficira" i danas se poprilično razlikuje od onoga kakvo je bilo 80.-ih ili 90.-ih, Eksarhija je i dalje središte grčkog pokreta otpora. Mnogi black bloc revolucionari koji su se onako žestoko borili s policijom tijekom prosvjeda protiv mjera štednje navodno žive ovdje. No, nužno je napomenuti da su ovdje mirne metode otpora i dalje češće preferirane.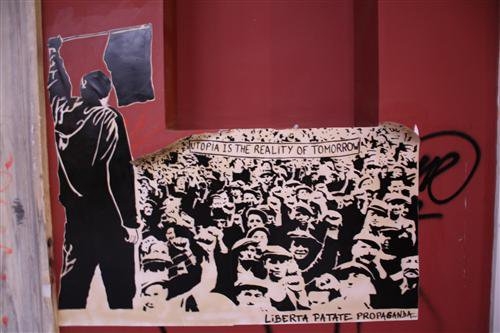 Skvotovi i kooperative su svepristune, dok knjižare, antikvarijati, štandovi sa organskom hranom, umjetničke izložbe i kina na otvorenom otkrivaju umjetničku, intelektualnu i društevno angažiranu prirodu stanovnika četvrti. Neki čak koriste i svoju alternativnu valutu, eksarhijsku liru. Sve u svemu, ono što definira Eksarhiju nije nasilje, već otpor. Otpor prema državi. Otpor prema europskom i američkom imperijalizmu. Otpor prema globalnom kapitalu.
Mnogi od onih koji sada prosvjeduju na trgu Syntagma (glavni atenski trg, op. prev.) svoje političke početke vežu uz tinejdžerske i studentske dane u Eksarhiji. Štoviše, mnoga lica koja sam vidio na ulicama i parkovima Eksarhije, prije sam uočio na otvorenim skupštinama na Syntagmi.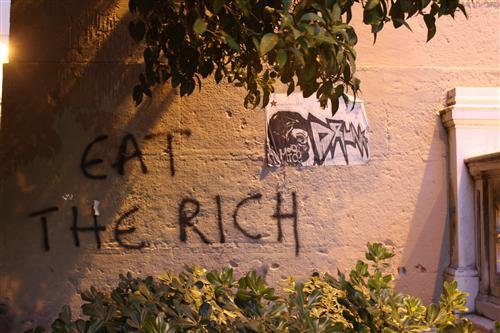 Centar opiranaj se možda preselio bliže središtu grada, ali ljudi i duh koji čine osnov grčke revolucije još uvijek su isti. No, ovaj put nisu sami. Njihovoj borbi priključuje se sve različitiji profil ljudi - radnici, umirovljenici, politički umjereni, čak i svećenici...
Dok napuštamo Eksarhiju i krećemo nazad prema Eksarhiji, ponovno prolazimo kraj policijskog punkta i moje oči susreću pogled jednog od policajaca. Mlad dečko, jedva mojih godina, ali izgleda gotovo dva puta veći i tri puta opasniji u svoj toj opremi. Ipak, dok se naši pogledi susreću, shvaćam da zapravo žalim jadnika. On je samo još jedan od onih koje su bacili u borbu u kojoj nikada neće pobijediti.