ISLAMOFOBIJA KAO IZLAZ IZ KRIZE
Jedna od poznatih marksističkih teza tvrdi da truneći kapitalizam smrdi na fašizam. Dakako, ovu tezu ne treba uzimati predoslovno u smislu da će kod svake malo jače krize kapitalizma u Europi niknuti mnoštvo fašističkih režima i novih Führera, što će dovesti do novog svjetskog rata. Ne, poanta ove izjave je u tome da će za vrijeme krize kapitalizma, koja je ekonomska, ali i politička, sve više jačati pećinarska desnica koja će epicentar krize s kapitalizma i njegovih "jahača apokalipse", prebacivati na neke manjinske grupe portretirajući ih kao najveće zlo koje prijeti zajednici. Jednako kako je 30-ih godina 20. stoljeća hitlerov NSDAP proglasio Židove najvećom prijetnjom, tako su i brojne europske desne stranke proglasile svoje imigrante, posebice one islamske vjeroispovjesti, glavnim neprijateljima "bijele Europe". Doduše, islamofobija nije isključivo europski fenomen, već je svjetski, gdje zapravo predstavlja nastavak hladnoratne šizofrenije upakiran u autobombe islamskih fundamentalista 21. stoljeća. Populistički desni političari na račun islamofobije dobivaju sve više glasova, pa čak i izbore. Dakako, islamski fundamentalizam je, kao i svaki drugi religijski fundamentalizam (i organizirana religija uopće), problem koji je potrebno riješiti, no jedna stvar su do zuba naoružani muđahedini iz Jemena koje gledamo na TV ekranima, a druga stvar su uplašene izbjeglice koje su došle na Zapad kako bi pronašle budućnost za svoje obitelji.
Tradicionalno je Velika Britanija glavno žarište radikalne desnice sa svojom Britanskom nacionalističkom strankom, mladunčetom ksenofobnog i neo-fašističkog pokreta 70-ih, koja u zadnje vrijeme osvaja sve više glasova, kako u Velikoj Britaniji, tako i u Europskom parlamentu, ali i sve popularnijom fašističkom Britanskom pučkom strankom, te islamofobnim "uličnim pokretom" Engleskom obrambenom ligom, s kojim je i sam Breivik bio u konaktu. U Francuskoj vladajuća kolicija predsjednika Nicolasa Sarkozya otvoreno izražava islamofobiju, te se zalaže za izbacivanje imigranata. U Norveškoj Napredna stranka predstavlja najveću oporbenu stranku, u Nizozemskoj Libertarijanska stranka Geerta Wildersa (op. a. - vrlo je važno istaknuti da usprkost insinuacijama oko imena, ova stranka nema nikakve veze s našim idejama – upravo suprotno) sudjeluje u vladajućoj koaliciji, a sve više jačaju Švedski demokrati i fašistička francuska Nacionalna fronta. Ovo su samo neke od stranaka koje su svoju islamofobiju pretvorile u glasačke listiće.
Britanski akademik Matthew Goodwin, koji se bavio proučavanjem britanske radikalne desnice, tvrdi kako su za nagli uspjeh pokreta poput Engleske obrambene lige najviše zaslužni mediji koji su skloni izricanju i podržavanju islamofobnih stavova, za razliku od 70-ih kada nitko nije podržavao antisemitizam Nacionalnog fronta. Antisemitizam nitko normalan niti ne može podržavati budući da je okončanjem Drugog svjetskog rata osuđen kao jedno od najvećih zala u povijesti čovječanstva, no očito je da ljudi nisu pretjerano sposobni učiti iz povijesti budući da se ponavlja isti princip samo nad drugom manjinskom skupinom.
SENZACIONALIZAM I LUDILO
Medijima nije bitno ni da se prepoznaju uzroci i razlozi ove tragedije, niti da se odašilje određena poruka koja bi osudila političku ideologiju koja stoji iza nje niti da ju prepozna u političkim akterima. Ono što je medijima bitno je senzacionalizam, posebice u "sezoni kiselih krastavaca". Tako ćemo moći čitati o tome što misle Hrvati koji su igrali World of Warcraft s Breivikom, brojna očitovanja kojekakvih kvazi-psihologa i stručnjaka o njegovoj psihi, ponekad će se i njima potkrasti kojekakva dublja osuda njegovog čina kao zločina motiviranog političkom idelogijom... U medijima su se spominjale njegove veze s Engleskom Obrambenom ligom. Liga se, naravno, ogradila od svake sličnosti s Breivikom, te osudila zločin. Za medije to tu staje, ali što dalje? Dalje će ići gomila priča i pričica o WOW-u i sličnome samo kako bi se popunile ljetne novine.
Vrlo je važno istaknuti kako se u slučaju Breivika ne radi o osobi s psihičkim poteškoćama koje bi zahtijevale od zajednice da mu pomogne i pruži odgovarajuću njegu. U njegovom slučaju "ludilo" bi bilo samo izgovor – izgovor koji ne zaslužuje. Riječ o politički motiviranom zločinu, zločinu zasnovanom na ksenofobnoj, islamofobnoj i fašističkoj ideologiji vrlo jasno prezentiranoj u njegovom manifestu i njegovim izjavama. Nesretnu mladež laburističke stranke ubio je zbog njenog "kulturnog marksizma", tj. liberalne politike prema useljavanju u Norvešku. No, je li Breivik jedini koji zastupa ove stavove? Nije. Bez obzira na način na koji je upakirala poruku, europska radikalna desnica upravo odašilje njegovu poruku. Zbog toga je nemoguće gledati na njegovo djelo izvan političke ideologije koja je poticala njegovu mržnju i rezultirala ovim činom. On je bio ekstrem među ekstremima. Udišući njihove poruke mržnje, ovaj čin je bio samo pitanje vremena.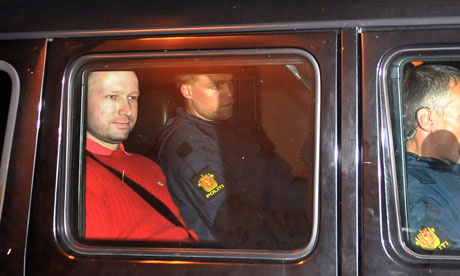 NEĆE PROĆI!
Breivikov zločin je monstruozan i za svaku osudu, no njegova kazna će malo toga promijeniti. Jedno je sigurno – ona neće obiteljima vratiti njihove najdraže. Nitko ne može promijeniti ono što se dogodilo. Ono što možemo, svi zajedno kao stanovnici Europe, jest ponovno fašistima reći: ne, neće proći! Mi u Hrvatskoj nemamo tolikih problema s islamofobima, no zato imamo svoje kosture u ormaru s kojima se moramo suočiti. Fašističke ideologije šire mržnju koja će prije ili kasnije eskalirati u novom Breiviku. Potrebno je da se zajedničkom akcijom odupremo svim političkim akterima koji pokušavaju jednu manjinsku skupinu pretvoriti u bauk na temelju njezine religijske, etničke ili nacionalne pripadnosti. Neovisno o kulturalnim razlikama svi mi težimo istome pravednijem društvu i sigurnosti na radnim mjestima i zajednici, stoga je potrebno da zajedno počnemo graditi budućnost.